DIALECTIC MEDAL
-
The Dialectic Medal was established in 2O2O to commemorate Hegelís 250th anniversary and the founding of the Institute for Advanced Dialectical Research. In creating this medal, the Institute calls attention to the power of dialectic by honoring the achievements of dialectical thinkers in diverse fields around the world.
The design of the medal is based on the portrait medallion Hegel himself received as a tribute from his students in 1830, the year he was elected Rector of the University of Berlin. Hegel proudly sent a copy to his friend, Goethe, in Weimar, who added it to his famous collection of nearly 2,000 European medals. Goethe wrote of this gift:
«Das löbliche Profil der Medaille (von Hegel) ist in jedem Sinne sehr gut gerathen.»
"The praiseworthy profile turned out very well in every respect."
The front of the Instituteís Hegel Medal is based on this original specimen, which is held in the collection of the Goethe-Nationalmuseum in Weimar. We acknowledge the generous cooperation of the Goethe-Nationalmuseum in creating this award.
RECIPIENTS
2O2O - (To Be Awarded 2O22)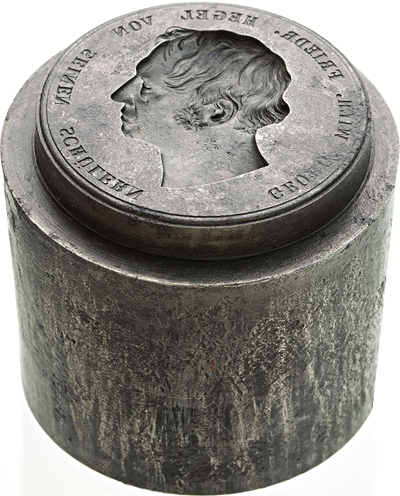 The original obverse die of the medal struck for Hegel by his students.
Held, Ludwig: Vorderseitenseitenstempel Friedrich Hegel 1830
Münzkabinett der Staatlichen Museen zu Berlin Nomisma NDP
Münzkabinett, Vault